Early the next morning, we squeezed in another 9 holes of golf before heading back to Taupo. That afternoon we headed south. Jennifer and I do not drive hard when we travel, so after a couple of hours, it was time for a coffee break.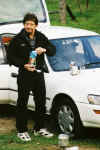 Rob was kind enough to loan me his camp stove, since New Zealand propane cans would not fit mine. (Actually, Rob bought the stove just for me to use. What a guy.)
That evening we made it to the cute little town of Ohakune. The next day we hiked in Tongariro National Park. A sacred place to the natives of New Zealand, the park's land was given to the government by a native chief in 1887. The park contains three active volcanoes. If you were playing Pictionary and you drew a volcano, it would look just like this real one:

Onward south, we headed for Wellington and the ferry to the South Island. Along the way, near the Nevis River, I picked up another rock for Phil.