One more night in Te Anau, and we crossed the South Island and headed up the east coast. We were introduced to yet another beautiful type of New Zealand countryside - rolling hills in autumn:
We went through a town called Gore and a town called Clinton, and saw this bit of New Zealand highway engineer humor:

We were headed for Dunedin and the wildlife refuges on the Otago Peninsula.

"IT'S A BLOODY SEA BIRD. IT DOESN'T COME IN ANY BLOODY FLAVORS."
That refers to albatross, for those of you who didn't grow up idolizing Monty Python. The world's only mainland albatross colony is on the Otago Peninsula near Dunedin.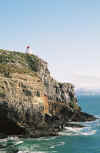 The albatross hang out on the other side of that peninsula, where it's windier. The wind that day was blowing a steady 35 mph, with gusts to 50. The albatross like that.
Much of New Zealand was settle by Europeans in the early to mid 1800s, about the same time as Texas. While we were slapping together ramshackle shacks out of hand hewn cedar planks, in Dunedin they were already doing something better called architecture.
By the way: yes, there are lots of sheep in New Zealand.